24 hours in Adelaide with nostalgic painter and illustrator Billie Justice Thomson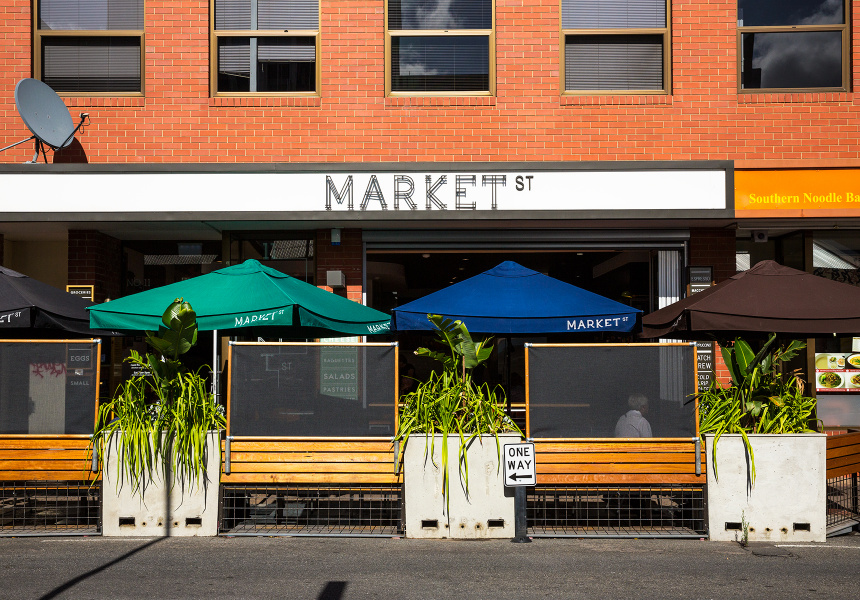 Large formatthe new book, Travels, is packed with the kind of recommendations you get from a local who knows the destination better than anyone, from postcard-perfect beaches and stunning day hikes to inspiring galleries and charming country pubs. With that in mind, we're asking some of our talented friends across the country for their hometown must-haves, must-haves, and must-haves (adoptive or not).
Popular entertainer Billie Justice Thomson is a true Adelaide local. She has lived there since birth, with the exception of a six-year stay in Melbourne. It also houses her studio, where she explores nostalgia through imaginative paintings of food and drink (think Minties and Killer Pythons). Find his artwork as playful magnets and stickers, or as orders – including the latest creative wine labels for Worlds Apart Wine.
To celebrate the release of Travelshere are Thomson's must-sees, must-haves and must-haves in Adelaide.
Thomson starts his day with a coffee on Market Street, opposite Adelaide Central Market. This airy cafe offers D'Angelo coffee, with well-stacked shelves of McClure's Pickles, Vegemite, Duck and Beet Patty and other Australian goodies.
TO EAT
Also around the corner from Gouger Street is Star House, a popular place for yum cha. Thomson heads here for a late breakfast and always grabs the bean curd skin rolls and sticky rice wrapped in a lotus leaf when the cart arrives.
The aforementioned central market is a great place for snacks – or alternatively, an opportunity to walk yum cha. "It's hard not to eat again immediately, but you can definitely just look at things and appreciate the market for what it is," says Thomson.
For a late lunch just 15 minutes from the market, Thomson likes the bright Herringbone Restaurant.
"You can kind of eat however you like there…small or large," says Thomson. "And they sell really beautiful [mostly] South Australian wines.
His favorite dish, which has just been put back on the menu, is baked scallops from Bass Strait with 'nduja, a Hollandaise-style sobise sauce and nori butter. And she usually pairs that with a glass of bubbles.
End your day in Amalfi, an old-school Southern Italian institution. Get the Spinaci pizza — topped with spinach, sopressa, and chili — which Thomson likens to "Roman pizza." Not a skinny Neapolitan style pizza, but this style really generous and full of flavor. It is also a great place for local or Italian wines.
BEVERAGE
For afternoon ales, sample a Coopers Pale Ale at the treasured Exeter Hotel. Built in 1851, Thomson says: "This is a most welcoming and homely pub…for everyone, young and old.
If you fancy a glass of natural wine, head to the Loc Bottle Bar. Hidden away in the East End, this bottle shop and bar always has a "different and interesting wine rotation," says Thomson. Inside, find around 150 bottles of low-intervention wines (take your pick right off the shelf), bottles of non-alcoholic Non, and an electric blue communal bar.
And for late-night cocktails, try newcomer Smokelovers. This wine and cocktail bar specializes in smoky margaritas made with premium mezcal (Billie is normally a fan of spicy Marg, but Smokelovers almost swayed her to the smoky side).
DO
A walk through the Botanical Gardens will take you diagonally through the city, where you'll see two beautiful old glasshouses filled with incredibly rare plants and huge water lilies, and a veranda that Thomson calls "the great pastie of glass" (it really looks like the shape of the classic British pastry).
There are so many galleries to visit in town, but with limited time you can just visit the North Terrace area. Here you'll find the Art Gallery of South Australia (a must-see), the South Australian Museum and the State Library, all within 200 meters of each other.
If you have a bit more time, there is also a private art museum, the David Roche Foundation House Museum in North Adelaide. Roche was a wealthy collector of ceramics, paintings and artifacts, who died in 2013 and left his home to the state. There are only two tours a day, but it's an amazing place to visit, "filled with the most jaw-dropping collection of things," says Thomson.
In the East End, all of Thomson's favorite shops can be found on Ebenezer Place. There's beautiful fashion label Yudu (known for its South Australian-made leather bags and accessories), fashion boutique Naomi Murrell, and "rockabilly boutique" Midwest Trader for straight-from-the-stock vintage cowboy outfits. the United States.
Looking for a day trip? If Thomson had to pick one spot, it's the Adelaide Hills. Grab a bite to eat at the Scenic Hotel or the Brid, then browse the shops of Piccadilly.
Travels, published by Plum, sells for $54.99. The book is available from all good bookstores or for pre-order now at shop.broadsheet.com.au for delivery scheduled for October 25 (subject to change).