Black American Distillation and Brewing History and Cocktail Recipes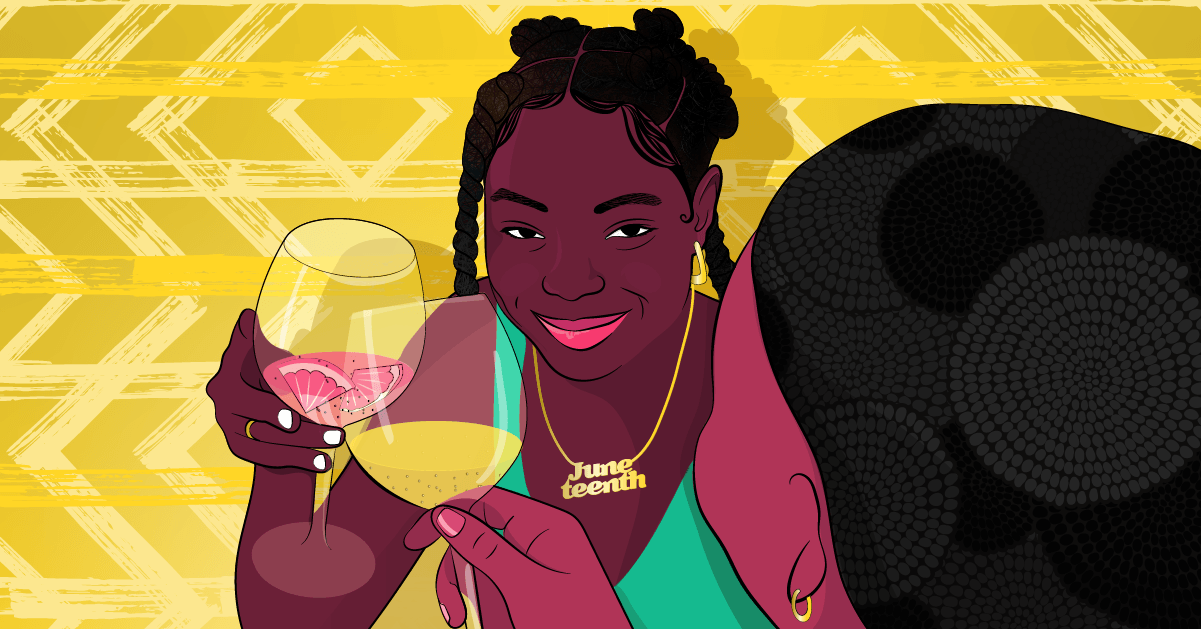 A few weeks ago, I was watching "Moonshiners," a documentary series about illegal liquor makers (most of whom are white and male) and their lives in the Appalachians. I was intrigued when the show suddenly featured Black Moonlight from Louisiana, which spoke about the history of moonlight in the Louisiana Bayou and how their regional recipes were born.
In its part of America, the story of moonlight has roots in the dark. After this episode, I was really into it. I wanted to learn all I could about the history of black liquor making in America. And with Juneteenth approaching, I want us to celebrate this story as fully as possible, drinks and all! So grab a glass and let's uncork it.
I started my research with "Historical Overview of Alcohol in the African American Community" by Kenneth Christmon. I have learned so much from his work, which starts around the beginning.
Black wine and beer making dates back to pre-colonial Africa, with palm wine and beer typically made from millet, Guinea corn, or barley. These drinks were an integral part of many religious and secular ceremonies, including ancestral devotions, sacrifices for a good harvest, etc. And of course, there was also a lot of preparation time.
The history of alcohol in the United States is deeply linked to the transatlantic slave trade, especially through rum. The sale and trade of African slaves, molasses (from which most rum is made) and rum itself was a lifeline in keeping the slave trade alive.
While this was happening, laws were also passed to prevent black Americans (slaves or free) from being able to drink alcohol. For example, in New Jersey in 1692 there was a law preventing whites from selling rum to blacks – if they did, they would be fined £ 5. Laws and restrictions like these only became more intense after the Civil War and after black people were freed from their oppressors.
But even through all of this oppression, the black wine and spirits community has made its way into history. And that's what I want to celebrate in this Juneteenth.
Although much of the known history of wine and dark spirits is predominantly male, times change rapidly. I spoke to the owners of three black-owned wine and spirits businesses that you can support in June. They even shared some of their exclusive recipes to start the party.
Raising awareness of the history of black liquor is one of the reasons Andrew Albert created Exclave Spirits, a family-run whiskey brand based in New Orleans, in October 2020.
"I would like people to know how black people have been an integral part of the craft of spirits throughout history," says Nicholas Albert, Andrew's brother and business partner. "Exclave was created with a simple goal: to discover and honor these contributions."
You will come for the alcohol prepared with respect, but will stay for the enriching extras for the community. Exclave donates a portion of all proceeds to the Michael James Jackson Foundation to fund the education of black brewers and distillers.
When you're ready to try a bottle, I recommend this recently released 3-year-old bourbon that has serious notes of caramel, cinnamon and vanilla.
The history of black liquor is still being done regularly, as evidenced by the origin story of Anteel Tequila, founded in 2018.
"I really didn't know I was the first black woman [in the world] to own or co-own a brand of tequila, "says Nayana Ferguson. "It wasn't until about a year later that my husband, after some research, found out about this. I think my presence in the alcohol industry shows my consumers that if you really want something in life you have to go on with it and not let anything stop you.
Nayana wants people to feel inspired when they think (and drink) of Anteel tequila. As a cancer survivor and mom, her goal is to uplift and empower her community (and hopefully change the tequila narrative for those with horror stories).
Aamira Garba is a sommelier in training (who just completed her WSET 3 exam), a mother of two and the owner of LoveLee Wine. According to a 2020 estimate by Phil Long, president of the Association of African American Vintners, only 0.01% of American wineries are owned by black people.
But when asked about the representation of blacks in the wine industry, Aamira was quick to say, "We're here! I continue to meet new people, to discover new wines, all by black people. The percentage is still pretty low compared to the industry as a whole, but the growth is inspiring and I can't wait to see how far we will infiltrate over the next few years.
Shayna Conde is a New York-based freelance Caribbean writer with a passion for bringing communities together and showcasing black-owned businesses.