Climate change is wreaking havoc on some wine grape crops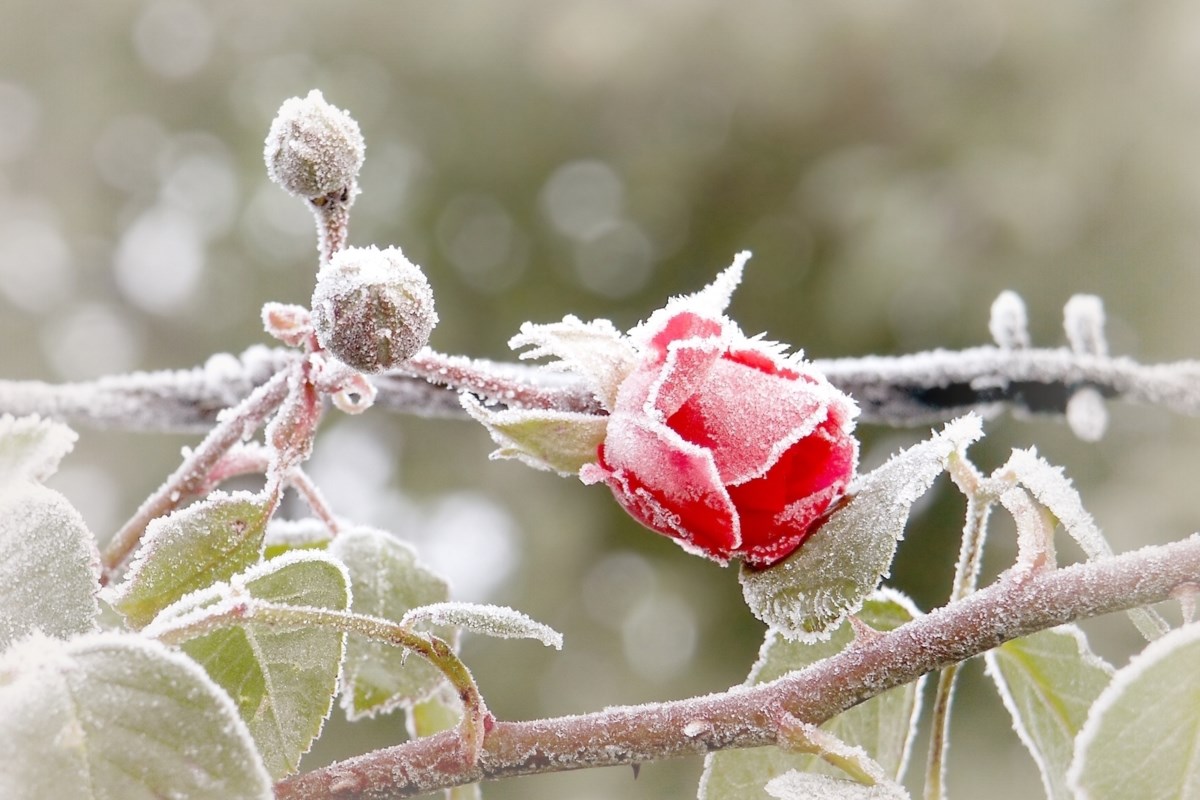 Brr. Here in the middle of the Great Lakes, the consistent warm weather has been slow to arrive. If you're a gardener, you're probably already buying your annuals while you can still find them, then taking them out in the sun in the morning and sheltering them in the evening – or covering them – to protect them from the cold until that it is safe to plant them.
Ancient Italian gardeners here used St. Anthony's Day – June 13 – as a safe date. The full moon in June has also been suggested. This year it will be June 13. Maybe old Italians know what they're talking about.
With our annuals, we may be able to dance around frosts, but that's not the case with crops that are already in the ground, or fruit trees and vines. Frosts won't kill established vines themselves, but they can wreak havoc with flower buds. Kill those buds, and that's your crop for this year.
Global climate change has definitely created problems for vineyards. In some places, notably in France, "bud burst" is occurring earlier and earlier. In the past, spring frosts may not have been such a major factor, as the buds were not advanced enough to be affected. however, the typical frosts common in early spring can now be more harmful as bud development is further along, making them more susceptible.
Crazy weather events can also be devastating, like last week's unexpected huge thunderstorms that swept through large parts of Ontario, as well as the tornado that hit Gaylord Michigan an hour south of the Mackinac Bridge. Imagine if you had been on that bridge, and the storm just a little further north!
On April 27, the wine spectator reported that in early April, killing frosts hit wine country in California and Oregon. In Lodi, which supplies us with much of our Zinfandel, temperatures went from the 90s a few days earlier to 5 hours of freezing temperatures, with some vineyards suffering a 100% loss.
In Amador County, about 25 miles inland from the coast, some vineyards have lost up to 60 percent of their buds. Others may have had better success pruning late to delay bud break, so the frost was too early to do too much harm.
In Oregon's Willamette Valley, an area that suffered extensive smoke damage in 2020, unexpected late frosts did extensive damage, especially to earlier budding Chardonnay and young vines. which tend to bud earlier than mature vines.
Around the world, a number of interventions are used to combat frost in vineyards. In Niagara-on-the-Lake, tall wind turbines were used to lower the layer of warmer air coming from Lake Ontario to alleviate cold temperatures. In some places helicopters have been used for the same purpose.
Elsewhere, methods ranging from bonfires and candles in the vines, to spraying the vines to coat them with ice, to running electric heating wires along the vines have been used to counter the effect of frost.
In some vineyards, giant sprinklers have been installed. When there is a risk of frost, the vines are watered throughout the danger period, coating the vines and buds with ice. As it freezes, the water returns heat to the vine, protecting the green tissue for at least a few hours, provided the temperature stays above -2° Celsius, according to an article by winemakermag.com by David Ruzzo.
In the Australian Journal of Grape and Wine Research in June 2009, a study explained how thermostat-controlled electric heating wires wrapped around vines had a significant impact on protecting vines.
On a night when temperatures dropped to -3°C, the following results were recorded. All unheated vines suffered some form of damage or crop loss, losing over 40 of their buds. Low heat vines lost 28%, but medium and high heat vines only lost 16% and 13% respectively, with no appreciable damage to the vine. Other studies show similar results. A concern, however, may be practicality, depending on the size of the vineyard. There is no doubt that it is a good solution for small vineyards.
Considering how devastating frost damage to vineyards can be around the world, it's really interesting to know how well grape growers can and will protect their crops. I am grateful that they do. For now, however, I will continue to move my tender annuals and potted plants in and out of the garage as needed, and wait for the full moon and Saint Anthony's Day so that I can do my planting.
At the LCBO
The decision, at least during the summer, to go with only one in-store release and one online-exclusive Vintages release per month creates some need for adjustment both for shoppers and for the stores themselves. .
Usually, I was able to access information about release items at least two weeks in advance, which helps provide readers with some suggestions. The next online-exclusive release is June 2, but just a week away, there's no indication what to expect. Nothing yet about the June 18 in-store release that will feature wines from the southern hemisphere.
If May is any indication, having only one release per month puts pressure on stores to find room to display more than the usual number of wines they receive in same time. In our Great Northern Road store, a number of wines have been marked down by around 20% to free up shelf space. It's a good time for consumers to try wines they wouldn't normally consider.
Since there aren't usually large quantities of each of these markdowns, I'm hesitant to make any recommendations. Explore.
Here are some suggestions from the May 21 release.
White
Parra Evidencia White 2020, $12.95, comes from the Portuguese region of Dao. Crunchy, dry and fruity, this will be an excellent summer white. It's consistently been well received by critics and obviously offers terrific value.
Garciarévalo Finca Tres Olmos Lias Verdejo 202, $13.95from Spain has an excellent review from Ontario critic Rod Phillips, who tells us it's drinking beautifully now with well-defined flavors dominated by white stone fruit with a refreshing line of crisp acidity.- 92.
Featherstone Four feathers 2021, $14.95, enjoys a solid reputation and will appeal to lovers of off-dry Rieslings. A blend of Riesling, Chardonnay, Sauvignon Blanc and Gewurztraminer, it offers tons of fresh citrus from lime/lemon and other tropical and orchard fruits, as well as notes of lychee and spices like ginger, thanks to the Gewürztraminer.
Famille Perrin Reserve Côtes Du Rhône White, 2020, $15.95, Ottawa writer Natalie Maclean explains that it is "scented with aromas of white flowers, dried pineapple and citrus zest, zesty and full on the palate with flavors of ripe stone fruit, citrus sweet, ginger and mineral on the palate. Cool and enjoy with roast chicken. – 90.
Pink
Château Bellevue La Forêt Rosé 2021, $14.95, from south-west France, is elegant, dry and balanced with ample fruit reminiscent of strawberries and blackberries. It is vibrant with a lingering and pleasant finish.
Featherstone Rosé 2021, $15.95from niagara, earned high praise from winecurrent.com. "There are aromas of floral and berry notes laced with citrus and spiciness galore. It coats the palate with a delicious full Monty fruit rush – a strawberry and cherry cordial adorned with zesty spice and passion fruit spiciness. It lingers on the lip-smacking mouth-watering finish and aftertaste. – 92.
Red
Xavier Vignon Côtes du Rhône 2020, $14.40, de France, is one of those "stand-out" wines, with its regular price of $17.95. jamessuckling.com calls it attractive with its "full blackberry fruit, generous body and positive herbaceous freshness". – 91.
Ravanal Gran Reserve Cabernet Sauvignon 2019, $15.95, from Chile is another wine championed by Suckling. It has "firm, fine tannins and fresh acidity with concentrated layers of dark fruit and chocolate. Tasty finish. – 93.
Australia is well represented on this version, with the eternal favorites, Shiraz Sisters Epiphany 2019, $17.95, and the Zonte's Footstep Chocolate Factory Shiraz 2019, $19.95 on the shelves.
You could take it up a notch with the Hewitson Ned & Henry's Shiraz 2019, $29.95, of the Barossa Valley. The palate is dense and super concentrated with dark plum and blackberry flavors swirling with a richness of dark liquor chocolate in the background. Shiny and bright, while maintaining that power and length. Great wine. » winepilot.com –