Column: Tasty Canadian wines that are often overlooked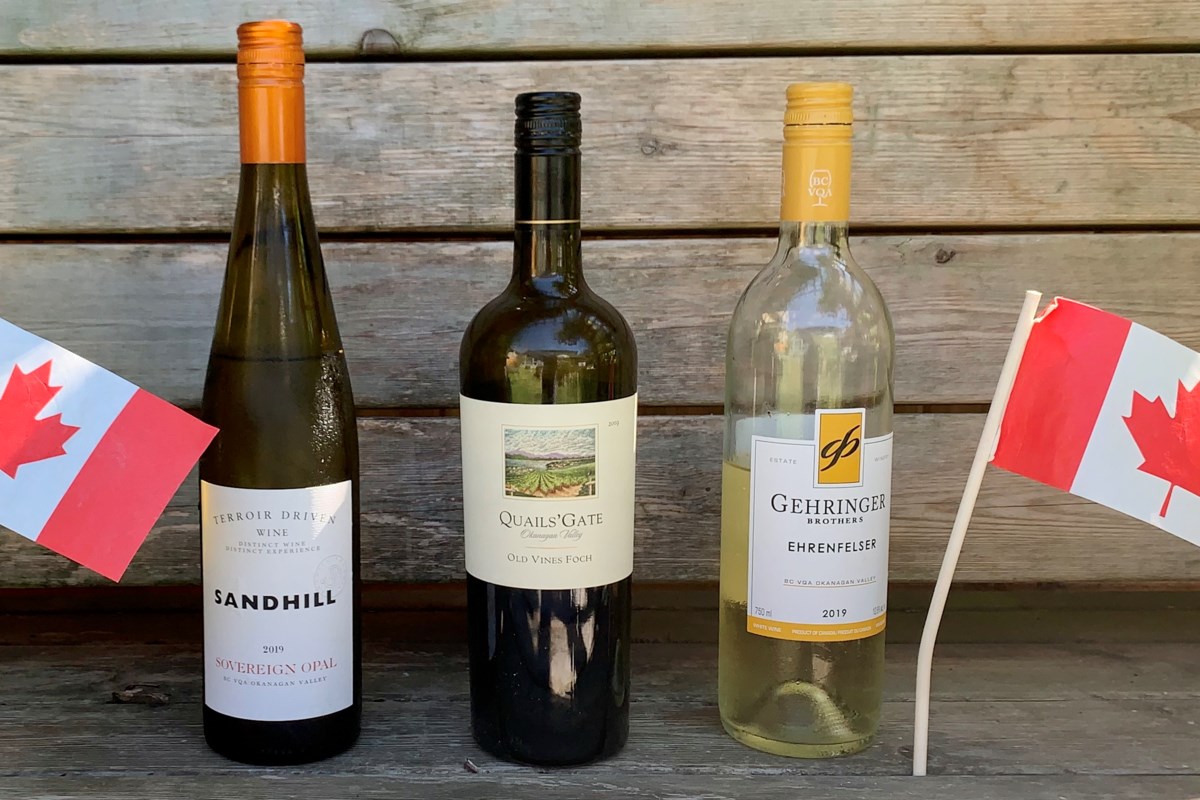 In recognition of Canada Day, it's time to consider Canadian wines that are out of the mainstream of most people's choices. Unfortunately, there are very few wines from other wine-producing provinces like Ontario, Nova Scotia or Quebec. Fortunately, we have a glut of delicious BC wines in our own backyard.
So if you've had enough of the 'same old' and ready to begin a journey of discovery, consider the following choices:
Ehrenfelser Here's a real summer wine with the flavor of Okanagan peaches and apricots, to sip under a parasol while you seek shelter in the heated dome. It is a cross of Riesling and Sylvaner first produced at the Geisenheim Institute in Germany in 1929.
Outside of his homeland, Ehrenfelser has had the most success in the Okanagan Valley. It is not as sour as Riesling and is generally off-dry with a hint of sweetness on the palate. Some Ehrenfelser can be sweeter like late harvest or ice wine.
Gehringer Brother's Ehrenfelser 2019 ($ 14.99); Note "A") has a summery aroma of citrus and stone fruit. There are mouth-watering flavors of grapefruit and ripe apricot and peach plus crisp acidity with a kiss of honey and a lingering off-dry citrus finish. Enjoy it on its own or with sushi, pho, ceviche or grilled chicken.
Gehringer's 2019 Ehrenfelser won Platinum at the Wine Press Northwest Awards 2020, Double Gold at the Cascadia Wine Competition and Silver at the All Canadian Wine Championships. Chances are you like this grape sleeper. Available at BC Liquor Stores and VQA outlets.
Sovereign Opal: Our next wine, Sandhill 2019 Sovereign Opal ($ 16.99; "B" + grade) is also a hybrid grape that was produced locally at Agriculture Canada's Pacific Agri-Food Research Center in Summerland.
"A totally unique wine," is how Stephen Schiedel, LDBS Category Manager for Canadian Wines, describes Sovereign Opal. It is the only British Columbia hybrid cultivated for commercial production. Additionally, only one producer in the world grows it, the Casorso family vineyard in Kelowna, and Sandhill is the only winery to produce it.
Sovereign Opal is a very pale white wine with a light body. It displays a mellow tree fruit aroma. On the palate, we find crunchy flavors of ripe apple, white currants and a juicy finish of lemon zest and semi-dry lime.
To be enjoyed while sipping this summer; it contains only 11.5% alcohol, so it is a good choice as a thirst quencher, with a toilet flush. And it's made for grilled pork with fruit chutney, samosas, sushi, and dim sum. Yum!
Maréchal Foch: And finally a red French hybrid that the French created and named after one of their famous World War I heroes, Marshall Foch. French hybrids were bred for places subject to extreme weather conditions. Canadian winemakers and winemakers were encouraged to plant Maréchal Foch because it could withstand our cold winters, unlike the best Vinifera varieties such as Cabernet Sauvignon and Merlot. The downside was that Marshal Foch often didn't make the same quality of wine as Viniferas.
In the 1990s, the BC wine industry was encouraged to pull up all hybrids and plant better quality Viniferas instead. Quail's Gate is one of the few wineries in British Columbia to still plant Marshal Foch. By extracting the grapes as much as possible and using old vines, the popularity of their Marshal Foch has reached cult status.
I was pretty impressed with Quail's Gate's 2019 Marechal Foch ($ 26.99; "A" rating) without tasting it in years. It displays a deep crimson red color and a complex bouquet of black cherry and plum as well as black pepper, leather and tobacco.
The Foch has a medium body with very smooth tannins. The high level of acidity maintains the balance of rich red and black fruits. Definitely worth a try if you've never tasted this BC special before. I will definitely try it again soon! Available in VQA stores and other private outlets.
Consider serving the Foch with tacos (skirt, shrimp and pineapple pork) like I ordered from Little Mexican Cantina last weekend. Or as salmon season approaches, pair this red with sockeye grilled over hot coals with alder shavings.