Cypriot wines to taste throughout the seasons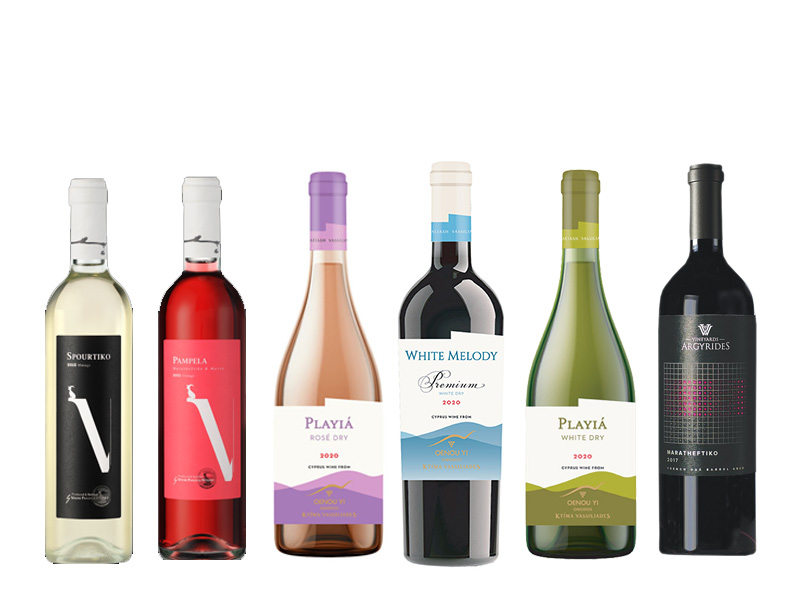 Vouni Panayia vineyard
2020 Vouni Panayia, Spourtiko, IGP Pafos, Abv 12%
There is something about Spourtiko that I cannot explain. The wine made from grapes with fragile skin whose main task is to provide the solution to the problematic pollination of Maratheftiko is gaining more and more followers. It is a "break-in" wine, lighter and easier on the palate, where novices can begin to appreciate this wonderful drink throughout their life.
The wine undergoes standard white wine vinification in stainless steel vats with cold maceration. Color shiny straw yellow transparent. The limestone soil of the Vouni Panayia plateau is responsible for the crunchiness of the wine. Intense, full and fruity aromas, with excellent persistence. A Mediterranean nose with mountain herbs, white spring flowers, with the character of peach blossom, lemon balm and Ogen melon. Its taste is dry, the palate is savory, with intense citrus flavors accompanied by sage and bitter herbs as well as a fresh acidity. Medium to short bitter length. Delicious as an aperitif at lunchtime or with fish soups, light appetizers and green salads or grilled seafood.
The label says "francs de pieds", which means ungrafted plants. These are plants that still have their original roots, and are not affected by the phylloxera louse which damages the roots of most European vineyards, unless the roots are grafted onto American vineyards. Cyprus is one of the countries not affected by phylloxera. € 10
2020 Vouni Panayia, Pampela Rosé, IGP Pafos, Abv 12.5%
A successful rosé over the years, generally a blend of Maratheftiko and Mavro. Most of the fruit comes from the Vouni Panayia plateau, and Pampela is one of the south-east facing terraces of the plateau. Rich in limestone, the grapes are vinified after cold maceration in stainless steel vats. Pale pink color, almost salmon, with aromas on the nose of red cherry and pomegranate, strawberry with a certain freshness of watermelon and blood orange as well as some spices. Light, balanced and refreshing, very dry. More flavors with layers of red fruits and watermelon with some notes of aromatic herbs. Bright finish, of medium length, Pampela is a perfect match for grilled fish, seafood, bouillabaisse and can be served easily with most Meze dishes. Lightweight, stable and attractive. € 7
Vouni Panayia, Panayia: Tel 26722770 / www.vounipanayiawinery.com Vouni Panayia wines are distributed by Cavaway Tel 70008588
Oenou Yi
2020 Oenou Yi, Ktima Vassiliades Playiá, IGP Lemesos, Abv 13.5%
Playiá or slope is a mixture, shared equally between Malaga (or Muscat of Alexandria) and Xynisteri. Malaga is an old variety, which is said to have been brought to the island as early as 3rd century BC. Due to its intense aromas, I think Malaga is used to add flavor to Xynisteri.
Think of spring lemon and honeysuckle while the palate is almost medium bodied. Bright and light yellow color, the wine is lively and refreshing with aromas and flavors of summer melon, ripe pineapple and citrus, lemony characters with some aromatic flowers more towards acacia, mineral spices and tasty. The finish is long, layered and framed by crisp acidity, citrus, minerals and lingering white flowers. A versatile white wine that will pair with a wide range of fruits and excellent for daytime picnics, summer fruit salads and grilled fish. € 8.50
2020 Oenou Yi, Ktima Vassiliades White Melody, Premium, IGP Lemesos, Abv 13.5%
The love story of Xynisteri 40%, with Malaga 50% continues with a 10% Moschato. Pale sunny yellow in color, this wine has aromas of spicy peaches, rose petals with lemon blossoms and hints of Xynisteri herbs. Slowly more exotic fruits reach the nose. Well balanced by acidity, the wine has playful fruity flavors with hints of ripe stone fruit. The lively and spicy acidity gives way to a round and smooth palate. Enjoy with Pan-Asian cuisine and seafood, as well as avocado sushi roll or burgers with sweet sauce. € 14
2020 Oenou Yi, Ktima Vassiliades Playiá Rosé, IGP Lemesos, Abv 13.5%
Another blend, Xynisteri 60% white meets 40% Mavro red and the result is a bright pink rosé. Sweet and elegant with aromas of fresh strawberry and cranberry, watermelon rind and honeysuckle leading to flavors of white peach. There is more lemon and lime, rose petal and herbs on the palate. Medium bodied with crisp acidity that supports flavors. A fresh yet rich wine, ready to drink, fruity and nicely crunchy. Serve this wine with raw vegetables, marinated red peppers or a bar crudo with lemon and pepper. € 8.50
Oenou Yi, Omodhos, Tel: 25 446000, www.oenouyi.wine.com
Argyrides vineyards
2017 Argyrides vineyards, Maratheftiko, IGP Lemesos, Abv 14.5%
Rebecca Argyrides, the figurehead of Vineyards Argyrides, decided Maratheftiko needed a new label design, and this wine has it. Black dominates with symmetrical squares, some with purple dots. The vines are located near the Vasa Koilaniou wine estate at an altitude of 1,050 m. This is a 100% Maratheftiko full body red; after standard vinification in red wine, it is aged for 12 months in French oak barrels.
In this case, French oak beautifully transforms the intense fruits of the hillsides with rare richness and a soft, luxurious texture. It's fierce, brave and delicious. Deep garnet purple color, Maratheftiko 2017 is presented on the nose with seductive black fruits and aromas of blackberry, fresh fig and licorice. Fresh notes of black cherry and violet also surface as the wine breathes. Powerful, framed by a firm structure, dark chocolate and nutmeg underline baking spices and plum. And a lingering finish will continue long afterward. Medium to full bodied, it has beautifully ripe tannins, quite fresh, ending with great persistence. It is ready to drink, however, those who hold it will be rewarded with an aging potential of at least ten more years. Savor this majestic Maratheftiko style with an oven-roasted Garlic Rosemary Standing Rib Roast. € 15.50
Vignobles Argyrides, Vasa Koilaniou Tel 25 945999, www.argyrideswinery.com, distributed by Oenus