Enjoy a red or white while being green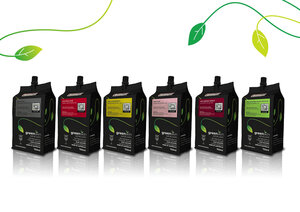 By Christine Salins.
www.foodwinetravel.com.au
Mike Davies has worked in the wine industry for over 40 years as a winemaker and packaging specialist. He made wine at many renowned wineries before establishing Sandstone Wines in Margaret River, Western Australia.
In 1989 he founded Portavin, which became Australia's largest independent wine packaging company before selling it in 2017.
Encountering data from Wine Australia which indicated that around 86% of wines are made to be consumed for purchase, he wondered why the glass – which was originally intended for the cellar – was still the format most common packaging.
And so, a new company was born. Greenskin Wine comes in a 750ml soft pouch that is unbreakable, quick to cool, resealable, easy to carry, compact and fully recyclable.
According to Greenskin co-founder and distributor Kim McKee, "it's designed to make outdoor quality wine tasting easier, faster, and lighter in every way."
Davies is passionate about wine, the environment and leads an active outdoor life, and with this he recognized the unmet market demand for a premium wine to be packaged in a 750ml format that is not only lightweight, compact and shatterproof, but also more durable than glass.
Launching Greenskin in 2021, he says, has given Australians something that solves a problem for them (and for him), while reducing overall environmental impact and increasing the sustainability of the wine industry as a whole. together.
The squeeze pouches are resealable, making it easy to drink in moderation (McKee says they find the wine stays fresh for at least three weeks after opening). Initial offerings include a range of white, red and rosé wines from the Margaret River and Great Southern wine regions of Western Australia.
In a first wine industry, they are also 100% recyclable. Each six-pack comes with a prepaid mailbag so consumers can return their empty pouches for free.
Not only does the pouch take 80% less energy to produce than a bottle, but a full pouch is less than 60% of the weight and volume of a traditional glass bottle. (According to Davies, one truckload of empty Greenskin bags equals 26 truckloads of empty glass bottles.)
Greenskin's innovative approach was recently honored at the Packwine Design Awards, winning the Best Alternative/Sustainable Package Design Award and the People's Choice Award.
https://greenskinwine.com/
Greenskin 2021 Sauvignon Blanc: Besides the packaging, the quality of the wine sets Greenskin apart from most of its competitors. Davies deliberately selects small plots of high quality wine from respected producers. It's evident in this elegant vegan wine made by Margaret River winery McHenry Hohnen. Judicious use of French oak softens the flinty and tropical fruit characters, giving the wine a lovely silkiness. Crispy and refreshing, perfect for outdoor entertaining.
Greenskin 2020 Chardonnay: The provenance of all Greenskin wines is clearly identified, with a QR code on each sleeve providing details of the winery, winemaker and vintage. The Chardonnay is the only one where the QR code didn't work for me, probably because it was superseded by the 2021 vintage. A note accompanying the 6-pack stated that as this is a new product , growers are cautious in applying a best before date of 18 months from bagging. However, everything indicates that the wines will stay fresh well beyond that. This 2020 Chardonnay is proof of that. With a best before date of October 2022, we found it still very fresh with subtle notes of pear, peach and melon, restrained oak and a hint of vanilla.
Greenskin 2021 Rosé: A lovely pale pink color with attractive floral aromas, medium weight and crisp, refreshing acidity. Very dry with a bit earthy flint. Winemaker Severine Logan of Calneggia Family Vineyards in Margaret River has stayed true to the region by using a large proportion (41%) of the flagship Cabernet Sauvignon variety, as well as Shiraz, Tempranillo and Malbec.
Greenskin 2020 Pinot Noir: Pinot thrives in the Deep South region of WA where this wine comes from. Vintner Chris Murtha of Plantagenet Wines produced an elegant wine with bright cherry, plum and berry flavors, well-integrated oak and a savory earthiness.
Greenskin 2019 Cabernet Sauvignon: A beautifully concentrated and seductive Cabernet from Calneggia Family Vineyards in Margaret River. Notes of raspberry and blackberry with an earthy side of olive, fine tannins and hints of mint and chocolate.
Greenskin 2019 Syrah / Shiraz: A lush, opulent, full-bodied red from McHenry Hohnen, whose winemaker Japo Dalli Cani took inspiration from the French Rhône Valley by co-fermenting a touch of Roussanne in it, adding floral flavors and minerality. Sweet/spicy notes and a nice long savory finish.