Guide to the best wine and cheese pairings for beginners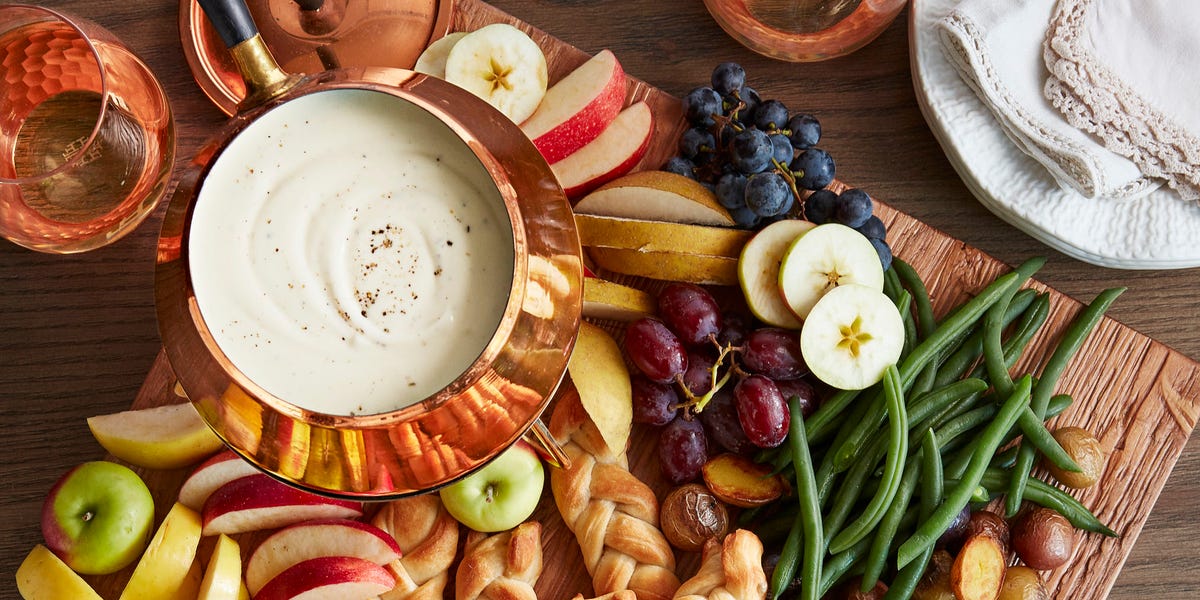 If you're hosting a party, creating an elaborate charcuterie platter can be a daunting task, especially if you want to please everyone. But putting together a wine and cheese pairing menu can be a simpler, more straightforward approach. Even the most basic cheese platters paired with the right red, white, or sparkling provide something every guest is sure to love.
Of course, wine and cheese platters can get trickier if you try to dive into bolder, experimental pairings – or if you're a complete beginner. We spoke to Laura Werlin, cheese expert and James Beard Award-winning author, as well as Leslie Sbrocconational PBS host 100 Days, Drinks, Dishes & Destinationsto gather the top wine and cheese pairing tips. Their expert advice will help you put together a wine and cheese platter that will wow all guests at your next holiday party or picnic – so pop the cork and start laying out the cheese platter from your dreams.
Wine and cheese pairings for beginners
Matchmaking is the fun part, but it's not just about going to your local grocery store and buying cheeses, meats, and wines willy-nilly. There is a culinary science to pairing different types of cheese with their ideal soul mate: a bottle of red, white, rosé or sparkling. If this is your first intentional pairing, a good rule of thumb is to pair certain types of cheese with equally intense wines, so one doesn't overwhelm the other. With that general note in mind, here are the best wine and cheese pairing ideas to try.
A semi-soft cheese and a medium-bodied wine
There will probably be at least one nutty, milder cheese on your plate, such as a Old Gouda cheese or Cheddar. Both of these options are salty and tangy and go best with wines that have berry notes, such as a medium bodied pinot noir. Sbrocco also recommends a rich white, a big fruity red, or a sweet Riesling like Hogue Cellars Late Harvest Riesling ($12).
A soft cheese and a sparkling wine
It's a good idea to have some variety of flavors and textures on your cheese board. Choose your favorite cheese spread, such as Brie or Camembert, for a decadent bite that only gets more luxurious with a bubbly drink that has the power to cut through the richness of cheese. Experts recommend a sparkling wine like Chandon Brut ($25). You can also experiment with triple cream cheeses like Saint Andrew or Explorer. These French cheeses are sure to please any cheese connoisseur who joins your tasting.
A funky cheese and a sweet wine
If you choose to serve something funkier, like Roquefort blue cheese or Gruyerea sweeter wine like Moscato or Port will match best. We recommend Warre's Otima 10 Year Tawny ($22), which has notes of green fig, dried cherry and hazelnut. A sweet and salty combo like this will have you reaching for another cheese crumble rather than a piece of chocolate. (But no one will blame you if you opt for both.)
A hard cheese and a full-bodied wine
Opt for a hard cheese like Parmesan cheese and Cheddar, two traditional choices that won't increase the noise of foul-smelling picky eaters. These ripened cheeses require bold wine which is able to match their flavor intensity. We recommend Wander + Ivy's 2020 Limited Edition Cabernet Sauvignon ($64 for 8 servings) with hints of black cherry and vanilla, as well as their 2019 Chardonnay ($64 for 8 servings) which has rich, bright notes of pear. and apricot.
A Fresh Cheese and a Citrus Wine
If you're ready to venture beyond basic cheese offerings, keep guests on their toes with a platter that throws goat cheese as the main character. Although goat cheese may seem expensive at first glance, keep in mind that the flavor is quite intense, so you don't need to buy as much as you would for a milder cheese.
There are soft and semi-hard goat's cheeses on the market, including a lightly lemony Spanish Monte Enebro, a chewier aged Spanish Garrotxa, or a herb-coated fresh goat's cheese. Whichever goat cheese you choose, you should serve wines that pair well with its flavor. We love August Bonhomme La Forcine Sancerre 2020 ($32) for its lemon acidity which brings out the tangy flavors of goat cheese. You can also opt for drying Pink.
Pro tips for serving wine and cheese
There's a special art to putting together a beautiful cheese platter that features swirls of crackers, slices of cheese, and clusters of fruit. But if you've ever found yourself overwhelmed, these experts step in to make the process go smoothly (like fine aged wine):
Put bread on your plate. Werlin actually recommends skipping the traditional crackers and serving plain baguette slices instead. "Its texture is softer and better for most cheeses," says Werlin. Not to mention that a sliced ​​fresh baguette adds a certain I do not know what to a romantic evening.
Don't forget the fruit. While cheese (and bread) can be the highlights of your board, it's a good idea to include fresh fruits that cleanse the palate like grapes or apples, as well as dried fruits, like apricots. dried, dates and figs.
Have several cheese knives on hand. Provide a separate knife for each cheese so that the flavors do not cross. While that might mean more cleaning, it's definitely worth it in the long run for your taste buds.
Buy an aerator. Of course, you'll need a bottle opener handy, but when it comes to serving wine, an aerator is also a handy tool that will enhance the taste of your wine through a quick filtering process. .
Make sure you have enough wine and cheese on hand. For cheese, a safe estimate is 1-2 ounces of each type of cheese per guest. For wine, allow half a bottle of wine per person; a bottle typically contains five glasses of wine, and most people drink around 2.5 glasses over the course of an evening.
This content is created and maintained by a third party, and uploaded to this page to help users provide their email addresses. You may be able to find more information about this and similar content on piano.io