Here's how to make Trader Joe's Ube Spread vegan, plus 7 ways to use it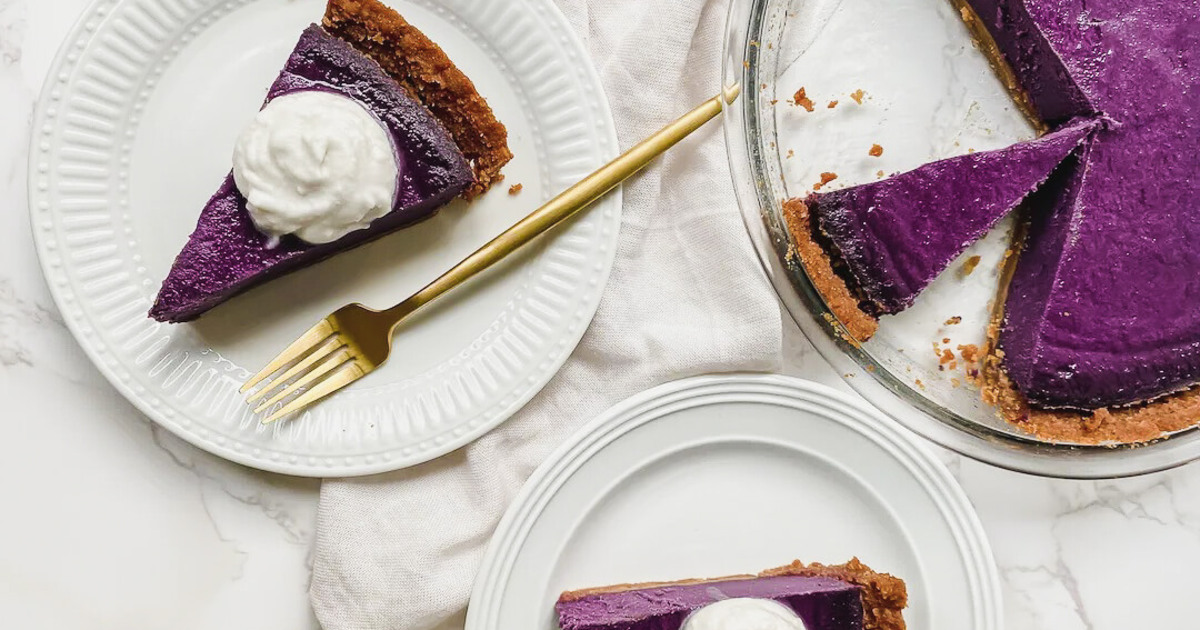 Ube flavoring isn't all that new to Trader Joe's lineup — the tiki-themed grocer has been churning out purple yam-themed products since launching its ube ice cream in 2019. After this dessert brightly iced, TJs came out with ube tea cookies, a vegan-friendly mochi pancake mix and, this summer only, a hugely popular ube spread. Although we heard it was divine, we have yet to taste the craze. To the collective disappointment of many vegan shoppers, this new product is not vegan (milk is the culprit animal ingredient). Don't let that deter you from experiencing the joy of ube's sweet, earthy flavor. Vegan versions exist, and you can also easily make your own. From where to buy it to what to do with it, here's everything you need to know about the vegan side of the ube spread.
What is ube?
Ube is a purple yam commonly used in Filipino cuisine and sweet treats. It is naturally light purple and takes on a darker hue when cooked. The flavor profile is sweet and slightly earthy with a hint of vanilla, and the flesh is silky and smooth when cooked. It's these versatile and universally loved characteristics that make ube perfect for a variety of desserts, from ice cream to baked goods (we'll talk about ube cake later). Some may confuse ube with taro – both are starchy vegetables that give sweets purple undertones; however, these two are not one and the same. Taro tends to be significantly less sweet than ube and also leans more towards a nutty flavor profile. For a deliciously sweet spread that you can add to everything from ice cream to brioche toast, ube is definitely the way to go.
Is Ube healthy?
On its own, without the added sugars, cream and other ingredients that make it so addictive, ube is a nutritional powerhouse. Like other yams and sweet potatoes, it's full of energy-boosting carbs and low in fat. A medium 3.5 ounce ube has 120 calories, zero grams of fat, 27 grams of carbs, one gram of protein, and four grams of fiber. Ube also contains a good amount of vitamins, minerals and antioxidants. The root contains 40% of the recommended daily intake (RDA) of vitamin C and 13.5% of the RDA of potassium, which is more potassium than an average banana. Ube's antioxidants may also prevent inflammation, the precursor to a number of diseases ranging from arthritis to heart disease.
Given this nutritional profile, can spreadable ube be considered healthy? Let's just say that it is better to consume it in moderation. Although not vegan, Trader Joe's spread contains 60 calories, three grams of fat (two grams of saturated fat), seven grams of added sugar and no protein, all for a serving of one. tablespoon only. Let's be honest, a small tablespoon is never enough to cover the entire surface of a piece of toast. So enjoy your purple schmear, but with intention.
Fila Manila
How to make vegan spread
For those who don't like kitchen projects, know that you can buy vegan spread, but not at Trader Joe's. A company called Fila Manila makes a heavily coconut-based ube jam that is shipped nationwide. do you want to make yours? It's pretty simple once you get your hands on the main ingredient. This recipe from Foodie Takes Flight has two options: powdered ube or pureed ube. If you can't find purple yams at your grocer, you can easily order the powdered version online. Beyond this essential ingredient, all you need is coconut milk, sugar, and salt. Dissolve the sugar and salt in the coconut milk over medium heat, stir in the ube and allow to cool and thicken. In less than half an hour you will have a homemade vegan spread. Now on to the recipes.
How to use ube spread
In the United States, the most obvious vessel for the spread of ube is a piece of toast, and while delicious, let's not stifle our creativity. From pretty purple cake to two-step croissants, here are seven ways to use vegan spread.
Gourmet take flight
1 Vegan ube and cheese pandesal
We featured pandesal, Filipino yeast buns, in our last summer issue of VegNews, but this recipe didn't feature ube. Ube spread is incorporated into both the dough and the vegan mozzarella filling of these sweet and salty carb pillows.
Learn more
Floured Frame
2 Ube Vegan Marble Cake
Pound cakes taste great, but those solid yellow bricks of butter, sugar, and flour often lack appeal. This is not the case when you marble the cake with ube-infused batter. This ube pound cake delivers both flavor and looks that even your grandma's famous pound cake recipe can't honestly claim.
Learn more
Sling and Frame
3 Ube pancakes
These flapjacks feature double the flavor of ube. Follow the recipe below or simply mix a tablespoon or two of ube into your favorite vegan pancake recipe (it's fine if that "recipe" is a canned mix). If you opt for the latter, add less liquid to prevent the batter from becoming too runny. While still hot, spread the ube between each pancake and cover the stack with a dusting of powdered sugar. Absolutely no syrup needed.
Learn more
The kitchen confidante
4 Ube Cinnamon Buns
Cinnamon sugar is the classic filling for cinnamon rolls, but ube spread is a serious contender. Not only does it provide much-needed color to those sweet buns, it also adds a stronger vanilla flavor that pairs well with the frosting. You can even mix a few tablespoons of ube spread into your frosting for a purple burst of ube flavor.
Learn more
Floured Frame
5 Ube Vegan Ice Cream
Unlike eye-catching chewing gum and mint sprinkles, the vibrant color of ube ice cream is all natural. This churn-free ice cream is made with sweetened condensed coconut milk and dairy-free whipping cream, infused with a healthy amount of sugar and a touch of spread or ube extract. The result is divinely creamy and definitely sweet, but not quite as sweet as the aforementioned bubblegum ice cream. Essentially, it's a frozen treat that both kids and adults can enjoy.
Learn more
Nuts on greens
6 Vegan Ube Pie
This particular recipe calls for grated ube – not the sweet spread – but we had to include it. This pie just might beat Pumpkin Sweet Potato Pie. It's creamier, more velvety, and you can't beat the eye-catching color. Instead of a cinnamon flavor, this pie tastes more tropical, think coconut and vanilla. It comes with a classic, crumbly graham cracker crust and a dollop of vegan whipped cream. This might be the new pie for your next Thanksgiving table.
Learn more
Tiff loves tofu
seven Vegan croissants with ube
There's no recipe here – all you need is a packet of vegan-friendly frozen puff pastry (Pepperidge Farm will do) and some chocolate spread. Preheat the oven according to the instructions on the puff pastry packet and let the pastry thaw. Cut the dough into triangles and generously spread a layer of ube jam on one side of the triangle, leaving about a quarter inch on all sides. Roll the dough triangle into a crescent shape and bake until puffed and golden. Devour as soon as they're cool enough not to burn your taste buds, perhaps served with extra ube jam on the side.
For more on vegan baking, read:
Dolly Parton's Cake Mixes with a Vegan Twist
Funfetti Birthday Cake with Strawberry Buttercream
matcha coconut ice cream
Happy Birthday VegNews! To celebrate, we're having a mega subscription sale, with amazing vegan prizes.
CHECK IT OUT
Happy Birthday VegNews! To celebrate, we're having a mega subscription sale, with amazing vegan prizes.
CHECK IT OUT