ICWA aims for net zero emissions for the wine industry by 2050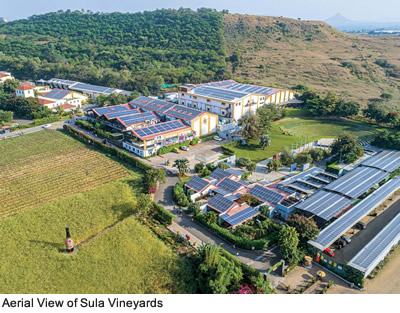 November 06: Twenty-two CEOs and senior executives of International Wineries for Climate Action (ICWA), founded by Miguel A. Torres Sr. (Familia Torres) and Katie Jackson (Jackson Family Wines) in 2019, including Sula Vineyards, made call for wine Trade CEOs join rigorous and scientific efforts to decarbonise the wine sector and start working towards net zero emissions by 2050, writes Subhash Arora who is a strong supporter of net zero emissions to save the world. planet of impending disaster
Zero net emissions refers to achieving an overall balance between greenhouse gas emissions produced and atmosphere, by natural means or by using still emerging carbon capture technology. After the COP26 World Summit in Glasgow last week, also in the presence of Indians PM Narendra Modi, the 2050 target was accepted although India chose the 2070 target.
The climate emergency is the most serious threat facing winegrowers and winegrowers. As world leaders gathered at COP26 in Scotland to reaffirm their support for the commitments made in 2015 during the Paris Agreement To limit global warming, ICWA also recognizes the importance for the wine community to express support for the continuation of these efforts and to take action within member companies.
"While the magnitude of this challenge requires global action on a monumental scale, we believe that the wine trade has a key role to play in the decarbonization efforts that will define the coming decade. For too long, sustainability has been treated as an exercise in public relations or communication. In order to meet environmental challenges, we must integrate sustainability into our operations. How we respond to the climate crisis can act as a driver of transformational change and a way to sustain not only our businesses, but our agricultural sector as a whole. This must therefore be our decade of action ", indicates the open letter to the world wine community, signed by the 22 constituents and sent on November 2.
Urging them to join IWCA, said the signatories, "Each of our companies joined the IWCA because we believe they set the gold standard for how a winery should measure and reduce its carbon footprint. IWCA also acts as a unified voice that can push for faster action throughout the wine supply chain and a support network for sharing best practices. '
Since you cannot effectively manage what you haven't measured, the core of the IWCA approach is to:
* Completion of an annual end-to-end carbon emissions inventory that includes direct and indirect sources of emissions, verified by an independent ISO accredited auditor, and
* Commit to an emissions reduction plan and demonstrate steady progress, aligned with scientific goals with the goal of achieving net zero emissions by 2050 at the latest.
Standardized methodology
One of the founding goals of the IWCA is to develop a standardized methodology for wineries to account for annual greenhouse gas emissions. This is a key step in ensuring that small wineries and wineries that are new to carbon footprint measurements, can engage without prohibitive costs and resource requirements.
The IWCA has developed a greenhouse gas calculator for US wineries, aligned with the World Resources Institute's GHG protocol and the ISO-14064 standard. The IWCA plans to implement regional updates to the tool and make it widely accessible.
" We are proud that the IWCA has joined the UN Race to zero campaign, a global initiative to rally the leadership and support of over 6,200 non-state actors who have pledged to halve emissions by 2030 and achieve net zero emissions by 2050. IWCA was the first Race to zero member representing the agricultural sector.
Corporate leadership today is inseparable from climate leadership. "We believe that we each have an obligation to do what we can, within our sphere of influence, to reduce our emissions. We believe that the wine trade can be a beacon of hope and action in the global response to the climate crisis, and serve as a model for other sectors. Membership in the IWCA is the most effective way to accelerate the decarbonization efforts of an individual winery and, by extension, the decarbonization of the wider wine industry. '
IWCA was founded by Familia Torres (Spain) and Jackson family wines (United States) in February 2019. This is a collaborative working group that addresses climate change through innovative carbon reduction strategies with the objective for all members to commit to becoming Net Zero by 2050.
Membership in the IWCA is open to any wine company that sees climate change as a serious threat. The organization has three categories of members (candidate, silver and gold) with requirements that include becoming Net Zero by 2050 at the latest, by completing an annual third party audit.
Sula vineyards has been at the forefront of encouraging sustainability in wine making and is the only Indian company to join the movement. Rajeev Samant, Founding CEO of Sula told delWine: "I am proud to be a signatory of this call to action from top CEOs and vineyard leaders around the world, calling on the wine business to decarbonize the wine industry and reduce emissions NOW! As you know, at Sula we take our sustainability efforts very seriously and today can claim to be one of the most sustainable wineries in the world. '
To learn more about the organization, how it plans to achieve net zero carbon transmission by 2050, and how a winery can apply to join these efforts, visit https://www.iwcawine.org/ .
Subhash Arora
22 signatories of the net zero emissions program by 2050
Indian Wine Academy and delWine support any initiative to save this planet. The goal of zero carbon emissions by 2050 seems like a distant goal, but unless every individual and every organization does its part, our next generation is doomed. We are pleased that the IWCA has aligned its goal with the global engagement and that Indian wineries will play their part to achieve the goals. We encourage Indian wineries to come forward and join the movement to help achieve zero carbon emissions- editor
If you like this article, click the Like button