New mural in downtown Palisade | Western Colorado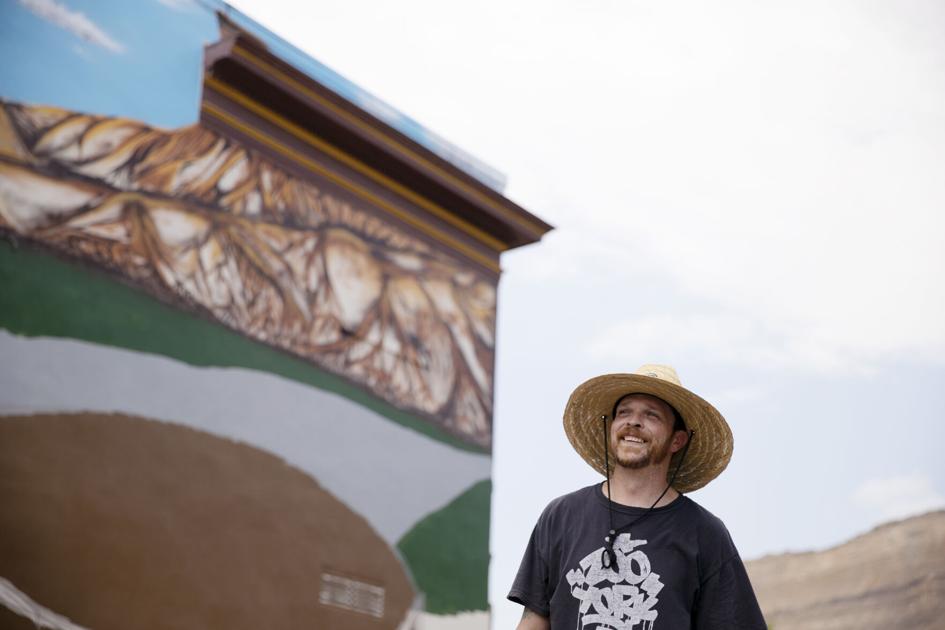 A local artist layers paint this week on a new large mural in downtown Palisade that, when completed, will represent the local landscape and the wine industry.
Blaine Bell was out on Friday to work on the piece, which he had been commissioned to create by the owner of the building.
The building is on the southeast corner of Third Street and Main Street and the mural is on a large brick wall at the back of the building.
Bell said he thought the mural would be a good representation of the city.
It will feature the Bookcliffs in the background with vines in front. In the foreground, a barrel of wine with an overturned glass of wine will be the occasion of a public engagement.
"So you can stand on the street or below and you'll feel like it's spreading all over you," Bell said. "I thought it would be a good opportunity to take pictures during Winefest, for people to come and take a picture."
The mural will take up to 8 p.m., Bell said.
He has been working on murals in the Grand Valley for 20 years, starting with the Art in the Alley program in 2001.
"We started this just to get some public art in downtown (Grand Junction) and do some murals," Bell said. "Now it's kind of snowballed into something that's all over town."
Creating such a large mural is a challenge, said Bell.
He said he planned the mural with sketches and a canvas version.
He had to identify points on the building as a guide to help him paint.
"It's a little intimidating because when you work at it you are in the know and you can't step back and watch it," Bell said. "So it's a different process, that's for sure. Most of the things I paint, whether it's a canvas or a wall, I can always take a step back and look at them and make sure they look good. A little difficult to do in an elevator.
While he was painting, people came to take a look at the work of art in progress downtown, Bell said.
"I've had quite a few locals here driving around and pulling over and talking with me and offering to give me their garage paint, that sort of thing," Bell said. "It's a great community here in Palisade.
The reactions he has had to the play so far have been very positive, he said.
"They're excited for a little bit of color," Bell said. "They are delighted to see something happening here in this building. So now that they see what it's going to be, they're excited. They think the city is going to like it.