Pomona Bar and Jamboree Jams serves jam, bread, wine and more on Avenue Saint-Claude | Food and drink | Weekly Gambit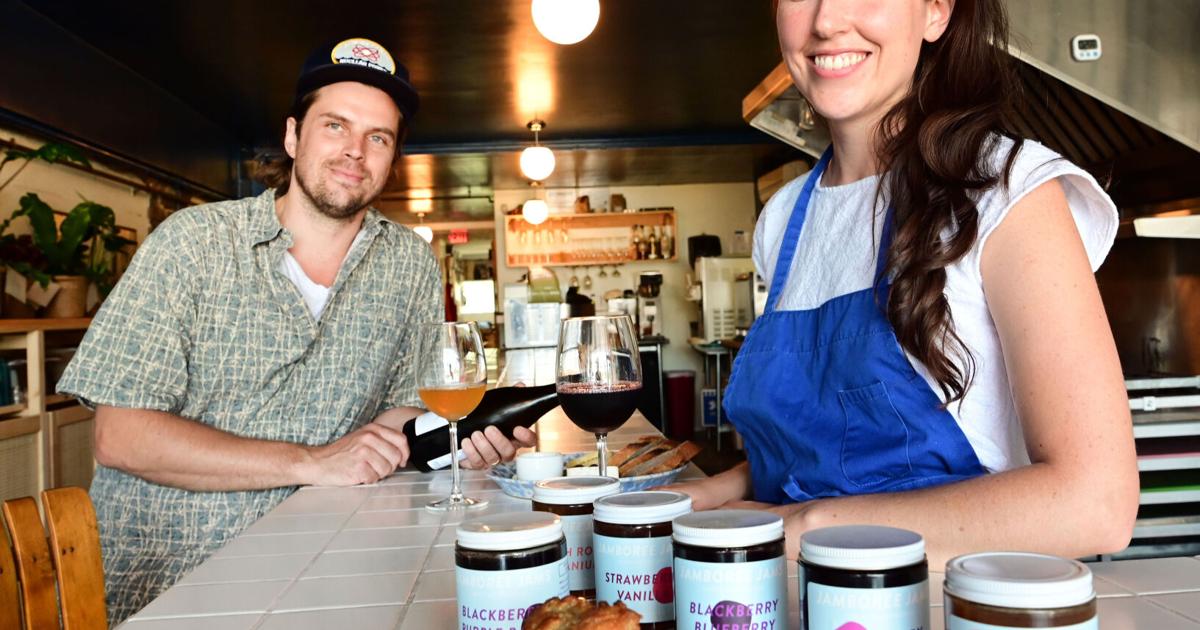 When Sara Levasseur and her husband Carl Hugmeyer decided to take over what was previously Shank Charcuterie on Avenue Saint-Claude in Marigny, they had a double vision.
Levasseur had built Jamboree Jams, a small-batch jam business she started in 2015, mostly through pop-ups and sales at farmers' markets, emphasizing local fruits, copper pots and not using commercial pectin.
Hugmeyer, who moved to New Orleans from his native Michigan in 2009, met his Canadian-born wife after moving to New Orleans to take up a job as a personal assistant in 2014. Hugmeyer had worked as a handyman do before moving into the bartender, most recently at N7, so from the outset the couple were interested in a space where they could have a liquor license. They found it in the compact space of 2352, avenue Saint-Claude, which can accommodate 22 people at scattered tables.
"After Kris (Doll) closed in 2020, we took a look at the space and thought it would work for us," says Hugmeyer. They signed a lease in February 2021. "We knew we wanted to do a jam and wine bar eventually."
That vision is now coming into play, with Bar Pomona as the name for the wine and savory portion of the operation. Jamboree Jams sweets are featured on weekend mornings.
Gambit spoke with Mason Hereford about his new cookbook, simple recipes and Cheez-Its on ice cream.
Levasseur learned how to make jam from his grandmother in Canada. Later, she turned the college hobby into a full-time business. Its small-batch preserves use local fruits, herbs, and natural, unrefined sugar to create jams inspired by the seasons and flora of Louisiana. She sources fruit from regional farms, including Johndales Strawberry Farm in Ponchatoula, JD Farms for blueberries in Poplarville, Mississippi, and Chilton County Peaches for peaches and plums in Alabama.
Levasseur offers jams with tempting flavors including blood orange with sumac and blackberry-violet-basil. At the store, there are also baked goods, such as filled donuts, on the weekends. Soft serve ice cream can be topped with crispy chili and chocolate tahini.
The concise savory menu includes homemade focaccia bread in most dishes. There's a plate of seasonal pickled vegetables and a salad of crunchy cucumbers dressed with herbs and fresh lemon juice. A salad of grated carrots with fresh herbs is dressed in a lemon-Dijon vinaigrette. The tahini is whipped with a bit of whole yogurt and drizzled with citrus.
Whole-grain sourdough breads and sourdough baguettes from Campagnon artisan bakery are featured on the salad platter and preserves plate, which also includes muhammara, a spicy Turkish nut-based dip served with preserved satsuma with salt. They're working with supplier Gourmet Foods International to offer a rotating selection of cheeses, like a French farmer's style raw cow's milk cheese from Thomasville Tomme, an eight-year-old cheddar from Hook's Cheese Co. in Wisconsin, and a Robiola di Roccaverano from Italian Region of Piedmont.
With the cheese, of course, comes the wine. Hugmeyer's wine list focuses on small producers from Oregon, California, France, Italy and South America. The wines available by the glass change depending on what it opens on a given day, with selections of red, white and sparkling wines. The drinks menu also features beer, cider, and an iced cocktail, and the spirits list strays from the larger distillers. So there's High Wire Hometown Vodka from South Carolina and Proof & Wood's Deadwood Straight Bourbon from Kentucky.
"We like to highlight companies that share the same commitment to small production as we do," says Hugmeyer.
The Pomona bar is open from 4 p.m. to 8 p.m. on Mondays and Thursdays and from 4 p.m. to 9 p.m. on Fridays. On Saturday mornings, homemade donuts hit the rack at 10 a.m., then Bar Pomona is open from 2 p.m. to 9 p.m. On Sunday, pastries and sweets are available from 10 a.m. to 2 p.m. The boutique is also open by appointment, adds Hugmeyer. .
---