Three women spinning their own fortune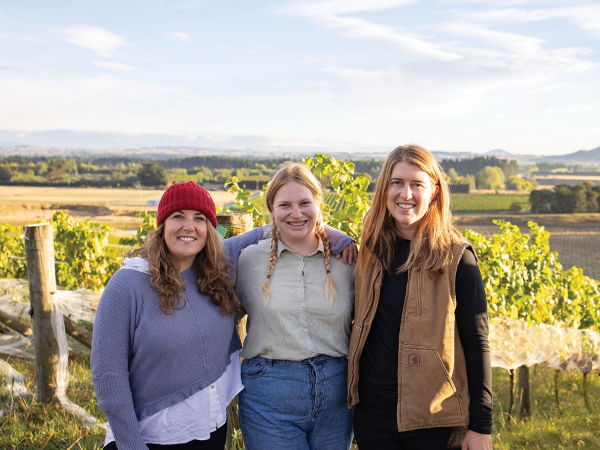 It takes courage to create a wine business in the wake of Covid-19. But three women under 30 did just that, launching Three Fates Wine in Hawke's Bay.
The label was forged last year when Holly Girven Russell, whose father Gordon is Esk Valley winemaker, teamed up with Hester Nesbitt and Casey Motley to lease a hillside vineyard in Maraekākaho. She wanted to create an opportunity for the trio to start and run their own business "and hopefully inspire others".
Holly grew up seeing the winery as a playground, and school sick days were spent in the car touring the vineyards. She didn't think she would follow in her father's footsteps, until she graduated from college and found herself working in a call center, and began to assess her life. "I realized that learning to wine was learning history, art, science and flavor – that was fine for me."
When she moved to London in 2014, Holly worked on the International Wine Show and then the wine buying team at Marks & Spencer, "which gave me a golden ticket to the trade. wine, "she said. "I have never looked back". She returned to the University of Auckland to study winemaking, then began traveling for the harvest.
Holly was working in the Yarra Valley when Covid-19 hit, so she returned to New Zealand with no work plans. "In isolation, I contacted the parents of a school friend who I had heard were looking to take a step back from their vineyard in Maraekākaho. They offered a lease on their 1.2 hectare hillside block, but it was more than she could handle on her own, so she began to put together a team.
Holly contacted her friend Hester, who had just returned from an Australian harvest under similar circumstances. Hester worked at First Drop Wines in Barossa, barely aware the virus was starting to snowball, as the harvest was in full swing. Finally, as the state borders closed, she took the last flight home from Adelaide, a day before the last fruits arrived at the winery, leaving the winery staff to take a crash course in wine making. . Hester had extensive experience in different countries, was a good company and a hard worker, says Holly. "Coming from an agricultural background, I knew that she could bring the farming experience and the us that I didn't have.
Holly also predicted that they would need a local person to run the vineyard on a day-to-day basis. "I had only met Casey a few times, but I knew she was passionate about the hands-on approach to viticulture after her years of working on wineries in Germany, Austria and France." At the prestigious Domaine De Montille in Burgundy, Casey's passion for the vineyard was unlocked. She had returned to New Zealand to work in the vineyards at Millton, her European way of life with her.
Holly intentionally chose to work with women because "I have never worked in a winery where the main winemaker was a woman, despite working alongside a lot of amazing cellar women." She is proud of their first vintage of Cabernet Franc, Albariño and Arneis. "You can't lose anything by starting from nothing," she jokes. The trio learned quickly and although there were many sleepless nights, "we are delighted with the quality of the fruit". They had a small but clean harvest, she adds. "The fermentation went well with indigenous yeasts taking care of the batch; everything is now stored in a barrel. Holly says they were greeted warmly by the Hawke's Bay wine community and received a lot of support. "Some particularly inspiring and helpful players have been Jenny Dobson and Bridget Wilton. Obviously, sharing a hearth with rockstar winemaker Gordon Russell throughout the harvest was also very helpful. "