Wine or beer? Why not the two of them? | Life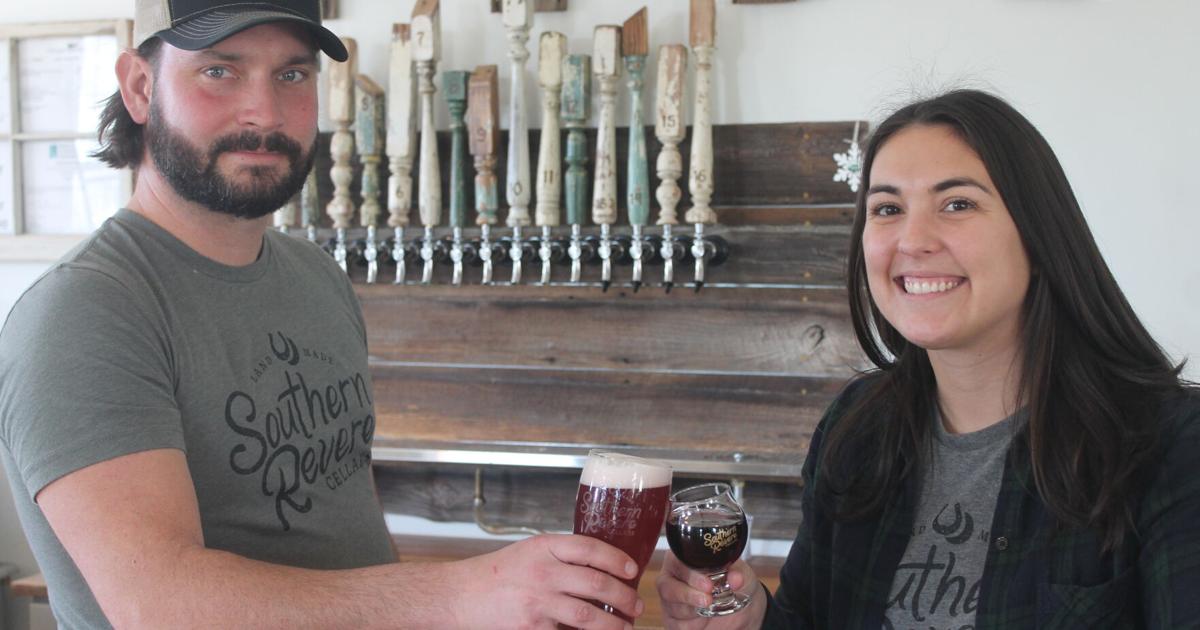 Are you a beer or wine lover?
Whatever the answer, Southern Revere Cellars has got you covered.
"We wanted to be one place at a time [wine and beer] people could hang out and you could keep everyone in your party happy, "said Sheridan Grime, one of the owners of Southern Revere.
East Jack Jouett Road's family-owned winery and brewery, which opened earlier this month, offers a selection of wines and beers, making it a central location for lovers of both. Sheridan and her husband Jason, along with Jason's sister and brother-in-law, Paula and David Spencer, run the show.
Southern Revere takes its name from the local hero Jack Jouett, who was nicknamed the "Southern Paul Revere" for his 1781 night drive from Cuckoo to Monticello to warn then governor Thomas Jefferson that British soldiers were coming to capture him. as well as other members of the state government.
"There are a lot of breweries and wineries in America now, so finding a name that wasn't taken was a bit of a challenge," Sheridan said. "We did a lot of research to try to draw inspiration from something local. "
The process of creating Southern Revere began several years ago when Jason and Sheridan, who lived in Nashville but have family in Virginia, began looking for land to open the business. Once they found it, they knew the West Jack Jouett Road location was the right place for them.
"We're pretty much exactly between Richmond and Charlottesville," Sheridan said. "You're less than five minutes from I-64, but it feels like miles away. You feel like you are stepping out of your daily routine and having all this beautiful scenery around you.
Work began to transform the property into a brewery and cellar in 2018, with the planting of the 1.5 acre vineyard. The land gave its first harvest earlier this year and the first house wines of Southern Revere are expected to be ready for customers in May 2022. They will initially offer two house wines, a red wine made from grapes. chambourcin and a white wine made from chardonel grapes. They partner with 53rd Winery in Louisa to help with production. The plan is to expand the vineyard from five to 10 acres and produce more varieties.
While waiting for the house wines to be ready, Southern Revere offers a selection of wines chosen from different vineyards in Virginia, including a peach wine.
"Our goal is to make wine to enjoy now, to enjoy everyday or for dinner with a pizza," said Sheridan. "We want it to be well made and of high quality while still being accessible – a bottle of wine that you would open while sitting in your rocking chair on your porch."
For beer drinkers, Southern Revere has a wide range of options, from light beers to IPAs to stouts, all created in-house by Jason, who worked as a brewer in Nashville before opening Southern Revere. There are currently a dozen options on the menu, which Jason plans to rotate on a regular basis to keep things cool.
"You have to have your light beers and your IPA drinkers so you still have to have something hoppy in there, but I like to spin them around because you can play around with all kinds of different hops and bring all kinds of hops. different the flavors in them, "he said. "It's just me kind of having fun."
Among the options currently available is a Season Rosé, which Jason made by passing beer over more than 100 pounds of grape skins left over from a sweet Rosé press made at 53rd Winery. The end result creates a beer that "is sure to please beer and wine lovers," according to their website.
Other selections include a s'more flavored stout, a sea salt and tangerine mimosa-flavored bittersweet beer and a pair of holiday-inspired offerings: a porter whose flavors are inspired by the cordials of chocolate cherry and a cranberry lime beer.
"We want to have enough variety that there is something for everyone," said Sheridan. "I want our neighbor around the corner to come over on his day off and drink this must-have lager, and at the same time, reach out to craft beer lovers."
Southern Revere is currently open Friday through Sunday from 12 p.m. to 6 a.m. on Friday and from 11 a.m. to 6 p.m. on Saturdays and Sundays. They plan to add more weekday hours as the weather warms as spring approaches. They offer discounts to first responders, members of the military, educators, and people working in the brewing / wine industry.
Various plans are underway to develop the business, including the addition of walking trails to the property and an on-site catering truck.