Wine Review: JB Neufeld — taming the savagery | Explore Yakima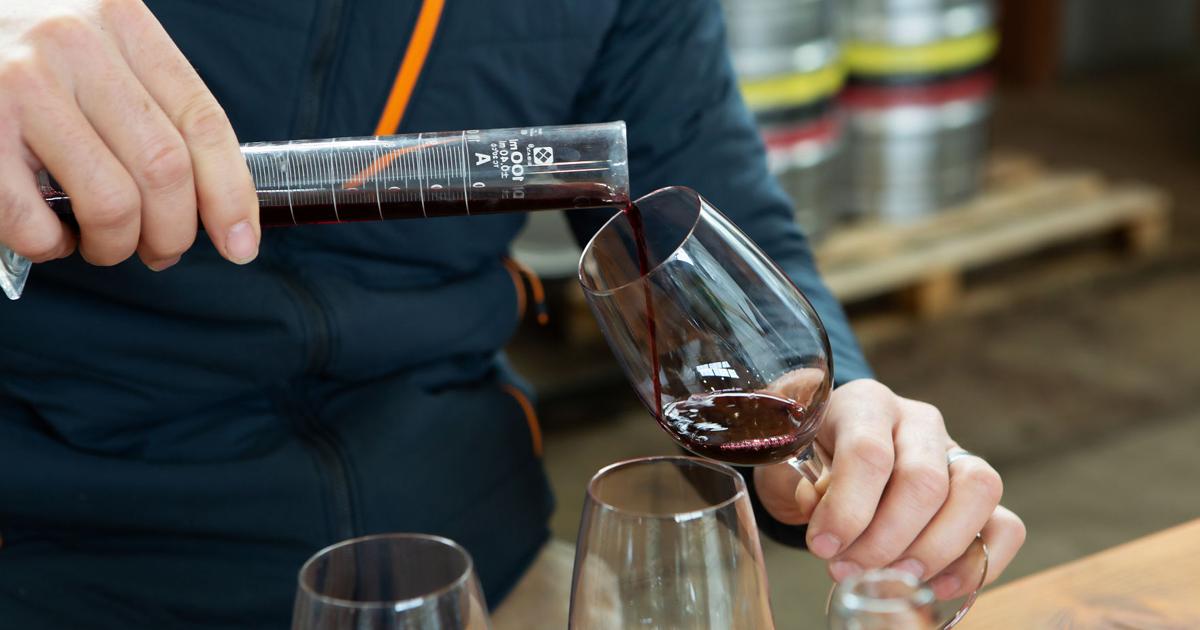 Imagine a wild horse – majestic, beautiful, powerful. If this horse were to be tamed, or "broken", it would no longer show its full capacity for beauty and power, because these are intrinsically linked to its savagery.
But if one could join the horse, ride it bareback in nature with a common goal, guide it gently without diminishing its inherent qualities, one could truly experience the masterpiece that it is. One could discover the beauty that hides in the wild nature.
This metaphor is a reflection of the relationship between Justin Neufeld and nature. The wines that result from this relationship are beautiful works of art.
Neufeld's wine journey began at the University of Washington, around the same time he met his wife, Brooke. He, originally from Naches, studied molecular biology while Brooke, originally from Whidbey Island, studied anthropology.
Neufeld had the opportunity to visit a winery as part of his college program, and that visit was enough to lure him into the industry. He had two main career options depending on his degree: work indoors in a windowless lab or join the wine industry, which would allow him to divide his time between beautiful vineyards and the lab space of 'a cave.
Neufeld's love of the outdoors and sage advice from his future wife sealed the deal. After graduating in 2004, he began working in wine labs across Washington in Zillah, Walla Walla and Yakima.
Neufeld would occasionally help with winemaking, which led to his first vintage in Walla Walla in 2006. In 2007 he was able to join Gilbert Cellars, a new winery in Yakima at the time. He quickly became their head winemaker and continued as such until recently.
During all this time, Neufeld was able to establish himself as a very competent winemaker. This, coupled with his adventurous spirit and supportive wife, led to the creation of their own wine company in 2008, JB Neufeld, the "JB" representing Justin and Brooke.
Starting his own winery gave Neufeld complete autonomy to craft wines that matched his personal style and interests, becoming the catalyst for the wild horse metaphor above.
Neufeld recognizes the inherent potential of wine grapes in the Yakima Valley and wishes to allow them to express themselves to their highest potential, gently guided in a direction that will create wines of true varietal expression and superior quality.
It starts in the vineyard, planting specific grape varieties, like Cabernet Sauvignon, in places where they will strike a perfect balance, fighting for survival but not to failure. Struggling vines devote the majority of their energy to reproduction (grapes) instead of canopy growth (leaves and shoots), thus producing fewer grapes but with higher concentrations of the compounds that provide flavor, structure and aromas necessary to produce wines of the highest quality.
The vines are then managed in such a way as to allow for the struggle, maintaining just enough canopy for photosynthesis (energy) and shade, while carrying the right crop load to maximize aromatic complexity (flavors and aromas) and structure. (tannins and acidity). ), which are then picked at ideal maturity.
In the winery, Neufeld seeks to allow the grapes to express their potential by extracting flavor and structure components during fermentation so that the period of oak aging can enhance the texture of the wine without overshadowing the characteristics. flavor and aroma of the fruit.
By opening each bottle of JB Neufeld wine, the consumer can taste the wild nature of the grapes, which have been masterfully guided from vine to bottle with gentle handling.
JB Neufeld focuses primarily on making Cabernet Sauvignon, as Neufeld believes it expresses itself best in the Yakima Valley. Cabernets range from its entry-level Yakima Valley AVA (sourced from multiple vineyards) to its single-vineyard Cabernets, which increase dramatically in quality, showing a beautiful sense of place (unique profile based on the vineyard they come from) .
The winery also produces a magnificent Syrah from the AVA Red Mountain and a Sauvignon Blanc from the AVA Horse Heaven Hills. Syrah will be available this fall and is the first vintage of this wine.
In my opinion, Neufeld makes some of the best Cabernets in the Yakima Valley. They have a remarkable structure with firm tannins and refreshing acidity. The flavors and aromatic profiles are complex and beautiful, brimming with dark fruit, laced with cooking herbs and spices and topped off with a touch of sweet cask notes.
My favorite is the 2018 Cabernet Sauvignon Old Goat, from the Red Willow vineyard. It displays concentrated aromas of black cherry, cassis and black plum, complemented by notes of mint, anise, clove and cocoa. It gives a silky mouthfeel and has the ability to age very well over the next 15-20 years.
JB Neufeld does not yet have a tasting room, but its wines can be found in restaurants and shops in Yakima. The best way to buy JB Neufeld wines is through their wine club, which offers fully customizable allocations with a 15% discount on all wines. Visit jbneufeld.com for more information.
NOTE: Some of the wines above will not be available until Fall 2022.